By submitting this form you agree to be contacted via phone/email/text
COOLSCULPTING IN MEDFORD & GRANTS PASS, OREGON
NOW FEATURING BOTH COOLSCULPTING LEGACY AND COOLSCULPTING ELITE
Eliminate unwanted fat cells for a slimmer, more sculpted physique with CoolSculpting. The popular fat-freezing procedure reduces stubborn bulges that resist diet and exercise. Also known as "lunchtime lipo," treatments are 35 minutes long and require little to no downtime. Best of all, CoolSculpting is safe, and it works!
Admire Aesthetics now offers body sculpting with CoolSculpting Elite. This newly redesigned system continues to utilize the innovative, fat-freezing technology that has made CoolSculpting the #1 non-surgical fat reduction treatment used by doctors. However, the CoolSculpting Elite system has also been restructured with busy clients in mind who prefer to treat multiple areas in one visit. The new dual applicators of the CoolSculpting Elite system permit the treatment of two areas at the same time.
Additionally, the applicators of the CoolSculpting Elite system feature an updated C-cup design. The new curved applicator surface allows for more tissue contact, improved suction, and an even cooling result.
Love every view of you! Get started with CoolSculpting today by scheduling a FREE consultation with Admire Aesthetics.
BENEFITS OF COOLSCULPTING
A non-surgical alternative to liposuction
Clinically proven safe and effective
FDA-cleared
Little to no downtime
Reduces diet and exercise-resistant fat
Natural-looking, long-lasting results
COOLSCULPTING BEFORE AND AFTER*
These CoolSculpting before and after images depict actual patients. Their transformations demonstrate how well fat freezing works. As with any body-contouring treatment, results may vary.*
You should be the correct CoolSculpting candidate to achieve optimal fat reduction results. Designed for individuals who have diet and exercise-resistant fat, CoolSculpting is ideal for those within 5 to 35 pounds of their target weight. If you are frustrated with stubborn fat and want to shed inches, CoolSculpting may be the answer.
Many individuals who fall outside the target weight range begin with a diet and exercise plan. As they begin to lose weight and get closer to the target weight range, CoolSculpting can be an integral part of the overall plan to look and feel better and improve confidence. Schedule a complimentary consultation with Admire Aesthetics today to learn if you are a good candidate.
CoolSculpting freezes fat cells that resist diet and exercise. The scientific method is referred to as Cryolipolysis.
During treatment, an applicator isolates stubborn bulges, exposing underlying fat cells to precisely controlled cooling.
The fat cells freeze and rupture. The immune system collects the destroyed cells and excretes them from the body as waste.
SCIENTIFIC COOLSCULPTING REVIEWS
CoolSculpting reviews from patients are overwhelmingly positive. However, they are not the only group excited about Cryolipolysis. The scientific community has thoroughly researched this body contouring process. Their findings are published in numerous peer-reviewed journals.
Some of the findings reported in CoolSculpting reviews from scientific research include:
"Cryolipolysis is safe [and] well-tolerated."1
CoolSculpting is an "effective treatment method for reduction of subcutaneous fat."1
"Cryolipolysis…reduces…fat…by up to 25% after one treatment."2
"Cryolipolysis…[is] a very safe method for body contouring."2
CoolSculpting treatments are "accomplished with minimal discomfort."2
CoolSculpting has "a high patient satisfaction rate."2
"94% of subjects showed a reduction in fat thickness."4
FREEZING DIFFICULT BODY BULGES
Admire Aesthetics provides treatments using the latest body contouring technology. Our state-of-the-art facility is equipped with four Cool Sculpting machines and the newest line of applicators. These applicators reduce freezing time to 35 minutes, ensure a more comfortable procedure, and permit your technician to target nearly any stubborn bulge on the body. Popular treatment areas include:
Freezing thigh fat (inner and outer thighs)
Freezing love handles, flanks, and hips
Freezing armpit fat (bra bulge)
Freezing upper arm fat
Freezing back fat
Freezing neck fat and double chins (submental fullness)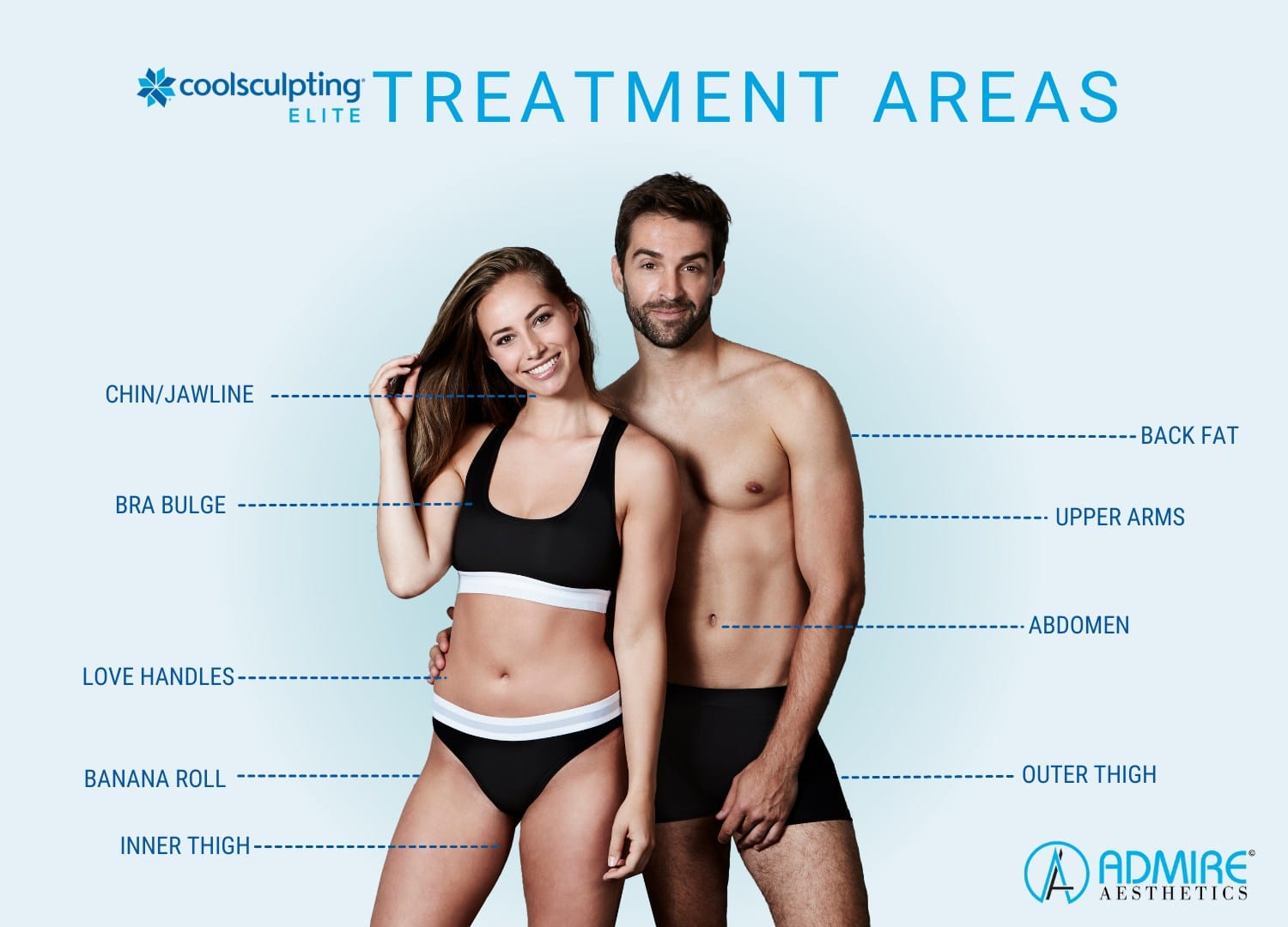 CoolSculpting requires little to no downtime. Most patients resume their normal activities immediately after their treatment. CoolSculpting side effects are rare. Some patients experience mild symptoms of redness, tenderness, swelling, or bruising following their procedure. These symptoms go away within a week or two.
As with any cosmetic treatment, individual experiences may vary; however, most patients begin to see the sliming, contouring effect of CoolSculpting 8 to 12 weeks after their treatment.*
Clients will realize a reduction in the fat layer of the treated areas within two to six months after the procedure. After the fat cells undergo a natural cell death through crystallization during the actual treatment, the process of elimination from the body happens over time.
Because the process is gradual, the skin can adjust and restore elasticity. In addition, the cold infusion stimulates both collagen and elastin production to help tighten the skin at the treatment area(s).
COOLSCULPTING PROVIDES LONG-LASTING RESULTS*
CoolSculpting eliminates fat cells. Once the body excretes the fat cells via the lymphatic system, the cells are gone for good. The body cannot create new fat cells to replace those eliminated via fat-freezing.
A longitudinal study that evaluated patients over nine years demonstrates the longevity of CoolSculpting results. Published in the Journal of Cosmetic Dermatology, researchers found "local reductions in fat have significant longevity…and suggest that results from cryolipolysis may be long-lasting."3 As always, individual experiences will vary.*
Combining CoolSculpting with Other Body Contouring Treatments
Many people are surprised that you can mix and match body contouring treatments. In fact, some treatments pair perfectly well together for a total body transformation.
Admire Aesthetics is proud to offer CoolSculpting Elite and truSculpt Flex. These innovative body contouring treatments work well together, and here is why:
First, CoolSculpting's cooling technology is perfect for reducing and eliminating stubborn fat cells that often resist diet and exercise efforts. During a cooling cycle, you can target a specific area of the body, like the lower stomach, and reduce lower belly fat with a complete CoolSculpting treatment plan.
In addition, you can also indulge in truSculpt Flex treatments. This comprehensive body strengthening treatment is the perfect addition to CoolSculpting Elite as it can tone, build, strengthen, and firm muscles for a total body makeover. You can safely alternate body treatments to successfully cool and sculpt your stomach and strengthen, tone, and firm the lower abdomen which helps strengthen, tone, and build up the core muscles for noticeable abdominal muscles and a leaner, more defined midsection.
CoolSculpting vs truSculpt iD
CoolSculpting is a revolutionary treatment that has been available since 2012. By now, most people know what this service is and how it works. However, many are wanting to know the differences between CoolSculpting and the new truSculpt iD treatment for fat cells.
Admire Aesthetics is proud to offer both CoolSculpting Elite and truSculpt iD. Schedule a consultation if you want to learn more about the differences between the two fat reduction methods. During your visit, you will undergo a physical evaluation with one of our professional experts to determine which body contouring treatment suits your body and goals best.
Men love ColdSculpting pockets of stubborn fat just as much as women. Men especially appreciate the ability to contour their physique to look younger, fitter, and healthier without surgery and with little to no downtime.
Popular treatment areas among men include:
CoolSculpting belly fat
 CoolSculpting flanks (love handles)
 CoolSculpting chin and neck fat (double chins)
 CoolSculpting the chest (ideal for men with "moobs," also known as "man boobs.")
At Admire Aesthetics, we want every client to feel as comfortable as possible. We are the only provider in Oregon to offer a "man cave" treatment room for our male clientele.
IS COOLSCULPTING A WEIGHT LOSS PROCEDURE?
CoolSculpting is not a weight loss treatment: it is an inch loss procedure based on the reduction of fat. Fat does not weigh very much but it does take up space. During follow up visits after a CoolSculpting procedure, Admire Aesthetics clients often say their clothes fit better, their pants hang looser, their bra digs less into the back, and their self-esteem has lifted as a result of fat loss.
IS COOLSCULPTING SAFE?
CoolSculpting requires no needles, no incisions and is FDA cleared. The procedure destroys the targeted fat cells only and does not damage the skin or any other organs. It is a safe procedure.
HOW MUCH DOES COOLSCULPTING COST IN OREGON?
At Admire Aesthetics, fat freezing treatments are tailored to each patient's body, goals, and budget. CoolSculpting prices vary according to the treatment area, the applicator used, and the number of cycles needed to obtain the desired aesthetic. Therefore, CoolSculpting cost varies per patient. The best way to determine how much CoolSculpting costs you is to schedule a FREE consultation with Admire Aesthetics.
WHAT AREAS DOES COOLSCULPTING TREAT?
CoolSculpting targets stubborn body fat in the areas that are most resistant to change: upper and lower abdomen, back fat, muffin tops, love handles, inner thighs, saddlebags, man boobs, buttocks, knees, arms, double chin and more!
DOES COOLSCULPTING ONLY WORK FOR WOMEN?
No. Men and women choose non-invasive aesthetic procedures to help them look and feel better. Body fat, the desire to remove it, and the treatment are not gender specific. Admire Aesthetics boasts the treatment room known as the Man Cave to provide a more man-friendly environment for fat loss. Where love handles, man boobs, and more are reduced while watching your favorite sports and action flicks, playing video games, reading guy magazines, and even sipping on crafted drinks. And best of all, the treatment visits are always done in confidence. So, they never make it to locker room gossip unless you choose to brag about your fantastic results!
WHY CHOOSE ADMIRE AESTHETICS?
Technique and experience matter.
CoolSculpting results depend on the skill of the technician performing the procedure. For the best experience and most optimal outcomes, choose a reputable provider with an extensive background in performing the fat-freezing treatment.
Admire Aesthetics offers unparalleled expertise.
Because CoolSculpting is a technique-sensitive treatment, discerning patients living in Medford, OR choose Admire Aesthetics for all their body contouring needs. Admire Aesthetics, one of the first CoolSculpting providers in Oregon, offers unparalleled experience, performing over 10,000 treatments.
Admire Aesthetics Specializes Exclusively in Body Contouring
Unlike other medical spas that offer a litany of services, Admire Aesthetics focuses exclusively on body contouring treatments. Doing this allows us to specialize in body sculpting procedures, providing our clients with great experiences and superior results.
The Best CoolSculpting in Medford
Admire Aesthetics provides the best CoolSculpting in Medford and Grant's Pass and is proud to serve the surrounding areas of Ashland, Central Point, and other nearby communities.
THE ADMIRE PROMISE GUARANTEE
Admire Aesthetics offers its Admire Promise Guarantee for all CoolSculpting clients.
We guarantee our clients will see amazing results (reducing fat by at least 20%), or we will retreat the area for FREE. You can learn more about the Admire Promise Guarantee during your consultation.
No other medical spa or clinic in Oregon guarantees their treatments as we do. Therefore, when you choose Admire Aesthetics to freeze your fat, you can rest assured that your investment is in good hands, and you will not be disappointed.
EXPERIENCE COOLSCULPTING ELITE IN MEDFORD AND GRANTS PASS, OR
Freeze away stubborn bulges and love every view of you. Schedule your FREE consultation with Admire Aesthetics. Reach out online by filling out the form below. You can also call Admire Aesthetics at (541) 275 2904.
By submitting this form you agree to be contacted via phone/email/text. Reply 'STOP' to opt out of marketing at any time.
* Coupon valid for 8 treatments or more
DISCLAIMER:
**CoolSculpting® is FDA-cleared to treat visible fat bulges in 9 areas of the body. Some common side effects include temporary numbness, discomfort, and swelling.
*Promotions: We offer a CoolSculpting promotion of 25% off the purchase of 8+ treatments. Promos cannot be combined with each other or other offers.
By submitting this form you agree to be contacted via phone/email/text. Reply 'STOP' to opt out of marketing at any time.
*Coupon valid for 8 treatments or more